Releasing in July 2014, The Haze Vaporizer has made national headlines of its impressive features. It is the first dual portable vaporizer that can vape seamlessly and simultaneously oils, waxes & marijuana. It is the only vaporizer that is capable of doing this. It has many different temperature settings and also have a storage compartment to hold the mouthpiece. Want twice the power? Load both chambers up with the same materials you normally use. It has been taking the vaporizer industry by storm and has been featured on the NY times for its impressive gift box it comes in.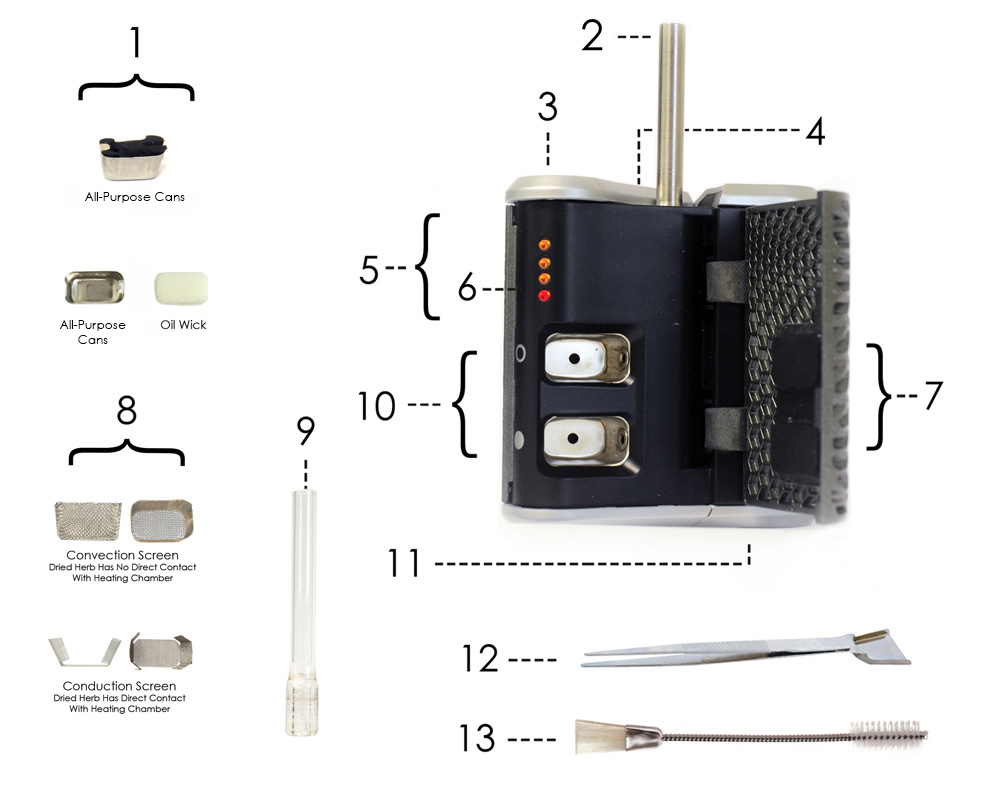 Advanced patented heating technology that gives users speedy heat up time. There are four pre-set temperature settings that give the user choices to make depending on his weed density. It has indicator lights to let you know which setting is which and can reach top temperature within 90 seconds. Each chamber is separated by stainless steel protective wall that will allow the chamber to heat up at various temperatures without it altering the taste of the vapor. This is both a convection and conduction vaporizer and the output is always cool, smooth vapor with pretty thick density. There is heat exchange technology mechanisms the will give you cool vapor. The long lasting rechargeable, external lithium-ion battery will hold a full charge for over 6 hours of continuous use.
Since it is a dual portable vaporizer, it uses convection and conduction heating. It comes with convection screens and conduction screens and gives you options to experience both. If you don't know what conduction heating is; it heats materials that are right on or above the heating source. Convection vaporization is when air is blown at a very hot heating element which vapor will be forced to flow to the tip of the vaporizers nozzle. Many people prefer convection vaporizers since it ensures no combustion ever reached, but you can experience both at the same time with the Haze.
There has never been a portable vaporizer for sale that has the quality like the Haze vaporizer. This vaporizer can do many things and is a great vaporizer to use on the go anywhere you like to go since it doesn't even look like a vaporizer. It is perfect for stealth and will never let your herbs reach the point of combustion.
Why The Haze Is Hands Down The Best??
No other portable vaporizer is going to come close to beating out the Haze. Who can offer both convection and conduction vaporization? No one but the Haze, which is why this vaporizer is ranked one of the best vaporizers of 2014, it just came out. With such precision and vapor purity as well as amazing performance, you can't come close to having a better vapor than the Haze.
Lets Explain a Few Things …
Haze Size
The size of the haze portable vaporizer is the reason why it is such a great vaporizer. It is smaller than the Da Vinci Pocket vaporizer and a little bigger than the Magic flight launch box. The Haze has its predecessors beat when it comes to this small, compact unit. It is only 3.13 in x 3 in x 1 inch.
Haze Temperatures
Using 4 different temperatures that are shown when the LED indicator lights flash different colors. It can reach temperatures of over 500+ degrees Fahrenheit, you just can't compete with that. Heat Exchange Mechanism the Haze utilizes is panted pending. Combustion free vaporization is the quality this vape can supply. Maximum temperatures are reached in under 90 seconds. If you go online, you'll see a lot of good reviews on how well of a job the Haze accomplishes.
Haze Use
If you're a true vaporizer enthusiast, this vaporizer is a must-to-own. The beauty of it is the dual bowls which are include with the conduction and convection screens. You can vaporize oils, waxes and our very own favorite, marijuana! It would be the one and only type of vape to own, it comes with a 10 year warranty which is a lot of time to own a vaporizer.
Haze Power
Using the power of 2 Li-Ion rechargeable external batteries. You just place them on the charger apter for 6-8 hours and you'll have some pretty high powered battery units powering the Haze for over 12 hours of continuous vapor use. This is why more and more keep buying the Haze.
Bottom Line
When in comes down to it, you evaluate every type of website and company that sells vaporizers, nothing stacks up to the Haze. It's getting harder and harder to find shops online that even sell this high end vaporizer for sale, but I know the price is at $249.99, which is price mapped. It would be a good idea to own cause in the near future, more and more people are going to want to own this work-machine. With all the heavy duty and high grade materials involved in building this work-of-art. Hand built one by one to create the Haze to be able to function.