Yes, you read that right! Even the losers are winners at the 2015 Oscars thanks to Haze Technologies!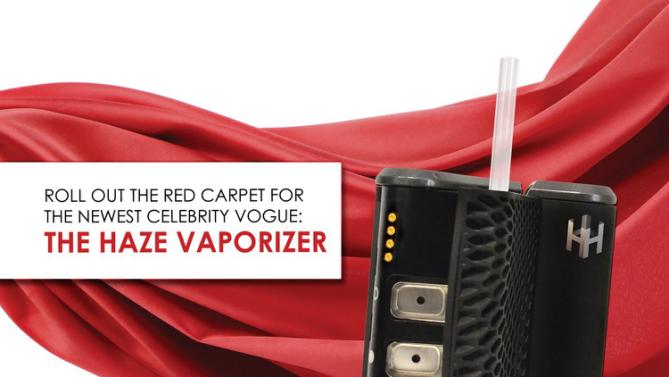 Here is the official Press Release from MarketWired.com:
ALPHARETTA, GA–(Marketwired – February 17, 2015) – The Haze Vaporizer by Haze Technologies is the first vaporizer to be included in the "Everyone Wins at the Oscars®" Nominee Gift Bags. The Haze, an aromatic portable vaporizer, will be given to all the (non-winning) nominees for Hollywood's top prize in the Best Actor, Best Actress, Best Supporting Actor, Best Supporting Actress and Best Director categories, along with other high-end "Swag Bag" items, in addition to this year's host, Neil Patrick Harris.

Arranged by Distinctive Assets (DA), who have been handing out its "Everyone Wins at the Oscars®" consolation prize bags for 13 years, these $125,000 swag bags will go to 21 A-list celebrities to soften the blow from not going home with this year's coveted statue. The 25 Nominees that could receive a Haze are:

All "losers" will be receiving a complimentary Haze Vaporizer in their Oscar Nominee Gift Bags. Who could have dreamed of this scenario even a few years ago, but now the vaporizer industry is really starting to pick up momentum. Nothing signifies that more than giving away the industry leading Haze Vaporizer to some of Hollywood's leading actors this April.

Valued at $250 retail, Haze is the first portable dual chamber aromatherapy vaporizer on the market that allows two different materials to be inhaled through vaporization with the alternative option to use both chambers for a single material, doubling the amount to "vape."

Designed to be 100 percent discreet and portable, the Haze has more to offer than what meets the eye including all-material compatibility (dry blends, waxy concentrates, and e-liquids), cool vapor output, power bank wall charger, pre-packing material cans, massive accessory options and more.

Following the ACADEMY AWARDS on Sunday, Feb. 22, this vaporizer of the stars will not have only set the bar for competing portable vaporizer brands, but for the vaporizer industry as a whole. Although the young and booming industry has shown exponential growth in revenue, widespread acceptance of these "smoking alternative" devices only slowly makes headway. The unprecedented placement of Haze's inclusion in these Oscar Nominee Swag Bags is a small step for a vaporizer, but a bigger step for the vaping community.

To learn more about the Haze Vaporizer, visit www.hazevaporizers.com.

About Haze Technologies:

Since its founding in 2013, Haze Technologies has combined innovation and advanced technology as the means to produce aromatherapy products that are durable, safe and effective. Extensive research and analysis goes into each Haze product, ensuring both quality and usability. The original and inventive product development behind Haze Technologies comes exclusively from experts in vaporizing mechanics and processes. As a result, Haze Technologies is becoming one of the fastest growing vaporizer manufacturers in the industry.

This Gift Bag has no affiliation with A.M.P.A.S or any official Academy Awards gift bag.

Source: http://www.marketwired.com/press-release/haze-makes-history-as-first-vaporizer-be-everyone-wins-oscars-2015-nominee-gift-bags-1992547.htm